oak timber frame products and buildings
Griggs Timber has been designing high quality, bespoke, oak framed structures including homes, garden buildings, and garages, made to your exact specifications and supplied in kit form for easy installation. 
Oak timber frames are interlinked structural beams using a variety of joists. It is a very traditional style of construction which lends itself to a variety of structures and is a very versatile building form.  Oak is not the only type of timber used in 'heavy' timber-framed structures, however, it is by far the most popular and it outranks the other timber types in terms of strength and durability.
Hardwoods like Oak, derive from slow growing broad leaved trees that take longer to reach maturity. The slow growth results in greater density and strength of the timber. Whilst softwoods are harvested from quick growing conifers making them easy to prepare and quickly available, hence cheaper, lacking however on durability and longevity. As a result, they need to be replaced sooner.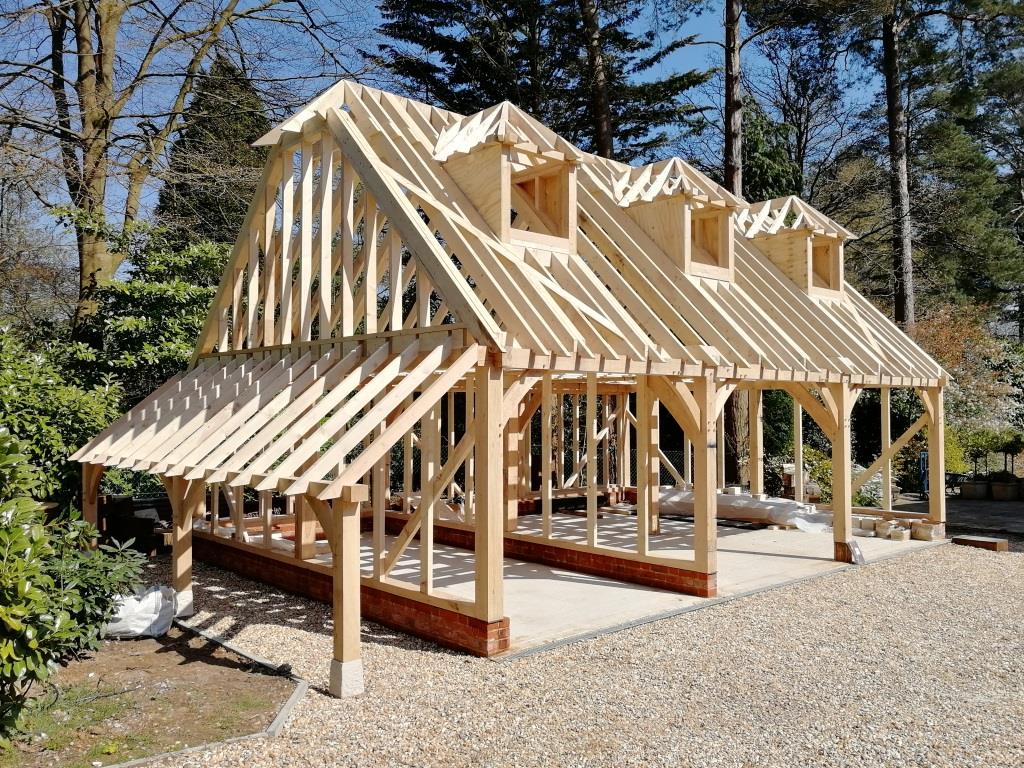 Oak is known as one of the most durable and long-lasting timber materials on the market today. Oak frames and structures almost never sustain damage from termites, vermin, or the environment. This is due to the fact that oak trees grow slowly. An oak's cellular structure is denser than that of quickly-growing softwoods.
Wide Range of shapes and sizes
We can produce high quality, bespoke oak frame structures at a very competitive price. Try our configurator below or reach out for a quote.
Griggs Timber specialises in crafting high-quality, bespoke oak timber frames and buildings that are built to last. We take great pride in our craftsmanship and attention to detail. Our team of highly skilled professionals have years of experience in working with oak timber. We work closely with our clients to understand their needs and provide tailored advice and guidance to help them achieve their vision.
When considering a new build, think oak timber. Griggs Timber offer standard designs that can be used as they are or bespoke to suit your needs. Our configurator allows you design your own structure, should you wish to attempt just that, with precision and accuracy.
Our designs are made from sustainable oak timber. Contact us today to discuss your requirements or simply to get a quote. Our team is ready to help you every step of the way, from design to delivery.
Let's work together to bring your vision to life!