Composite Decking
We stock TherraWood® composite reversible decking.  Available in Hazelnut Brown, Stone Grey & Anthracite from only £8.20 per linear metre. Products made from TherraWood®. Are a unique blend of PVC, wood fibre and other proprietary components. The decking is an elegant, cost-effective, durable and safe alternative to wood, for both residential and commercial areas.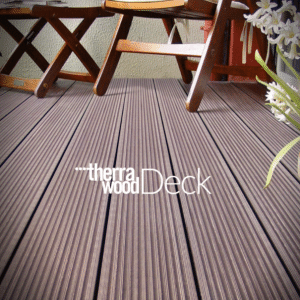 Recycled and sustainable
Not a single tree has ever been cut down for the purpose of producing our range of boards.
Our products are made up of 60% bamboo fibres and 40% recycled plastics, that would otherwise end up in landfills.
Our products are free of toxic chemicals and preservatives normally used for the treatment of natural timber.
In our factory nothing is ever wasted. This means that every bit of left over product is put back into the manufacturing line to be recycled and made into something new.